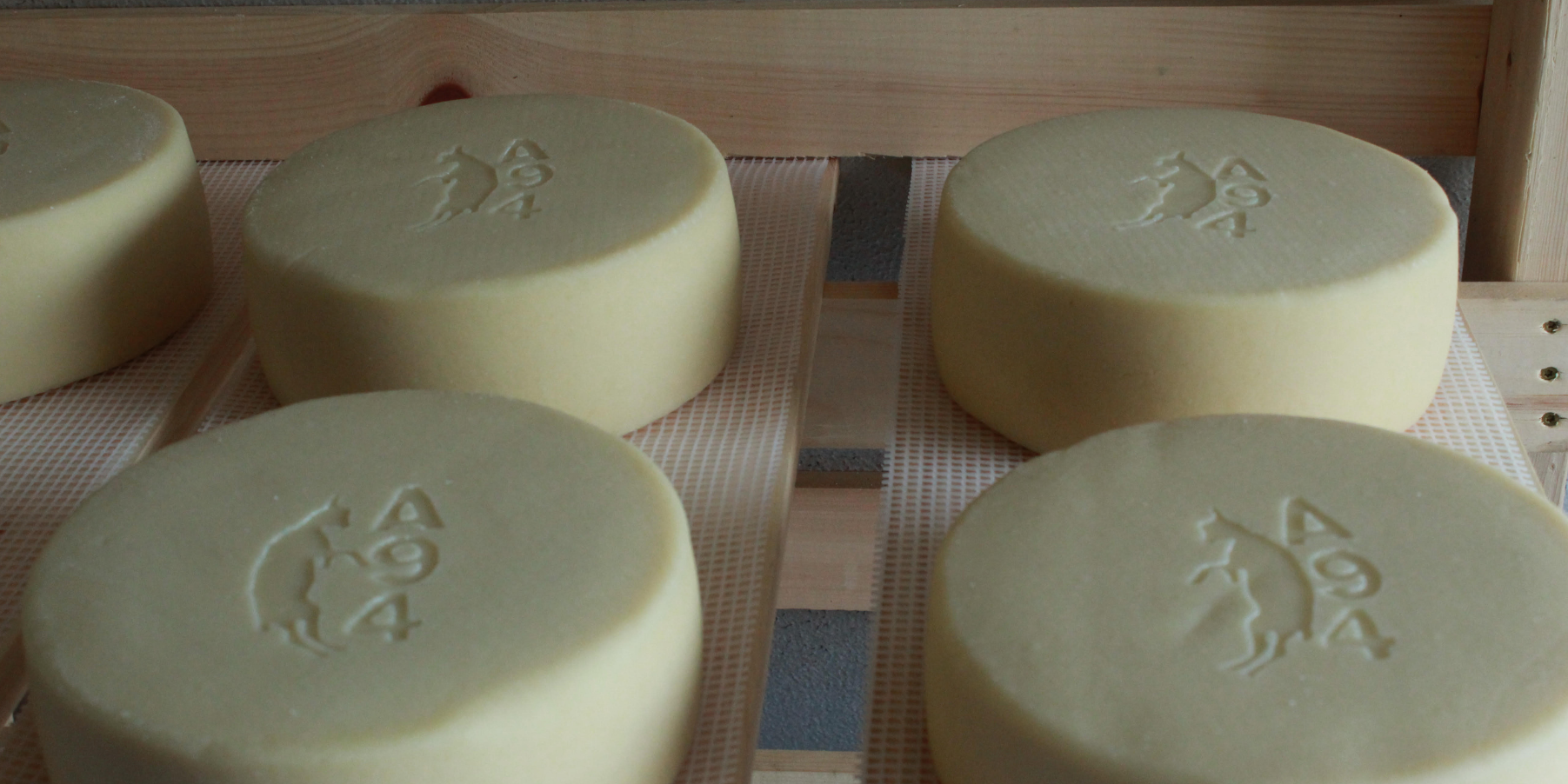 We are a grass to table creamery: made on the farm to feed our local community
Pumpkin Vine Family Farm is an artisanal farmstead creamery, which means that we produce our cheese by hand in small batches, using only milk that we produce here on the farm. 
Keep reading for more information on our creamery and artisanal cheese making process, including how we transform our goat milk into a variety of types of handmade cheese, how we share this magic with our community, and how we see our goat milk creamery growing and evolving in the future. 
We Are Farmstead
We use only milk that we produce here on the farm
Our creamery begins with the pastures that the goats graze, which gives the milk its fresh sweet flavor profile, that is uniquely Pumpkin Vine milk.
We are Artisanal
We produce our cheese by hand in small batches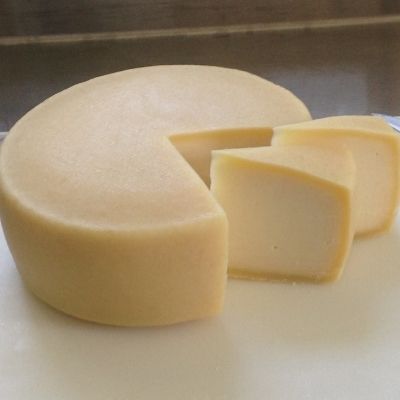 We are science nerds, and we love magical chemistry that occurs in the vat when we add our cultures and rennet.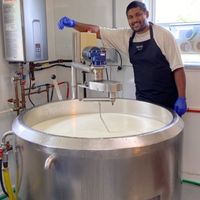 Cheesemaking is a long process of "hurry up and wait" so we can slow down and notice the beauty of the process, like when we cut the curds.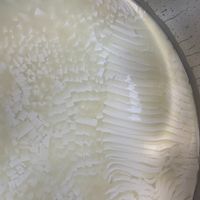 Each type of cheese is different, and requires special care:
Our chevre has to culture overnight before it sets, then is gently hand ladled into cheesecloth and drained for 24 hours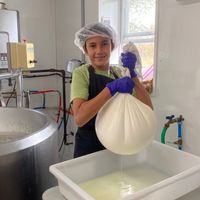 Semi-soft cheese like our Somersalt feta ripens in a matter of hours, then is cut with a curd knife and drains under its own weight, before being aged in brine for a minimum of 2 months.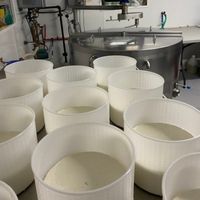 Our hard cheese is pressed under weights in order for the curds to knit properly, so we have to identify each wheel with a unique brand and batch number.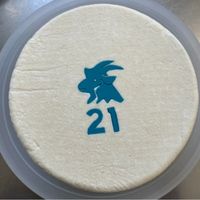 By making small batches, we can make a variety of hard cheeses, that age for 2 – 12 months, some with a natural rind, some with a cream wax, and some bathed in a red wine.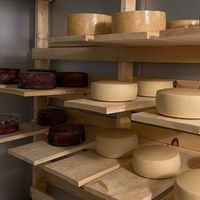 We are Local
We love to use ingredients made in our local foodshed
Our latest cheese was inspired by our customers, who kept mentioning the wonderful work that was being done by the Pour Farm, a local brewery in Union. When we finally had time to visit, we discovered kindred spirits who shared our commitment to building community. When we tasted their porter, we just had to try it in our cheese. Our first batch of Teleporter was made in the fall of 2021 and perfectly captured the delicious aroma of the beer. Definitely to be repeated!
We are Small 
The development of our own creamery has been a labor of love, as we had big dreams, but limited means.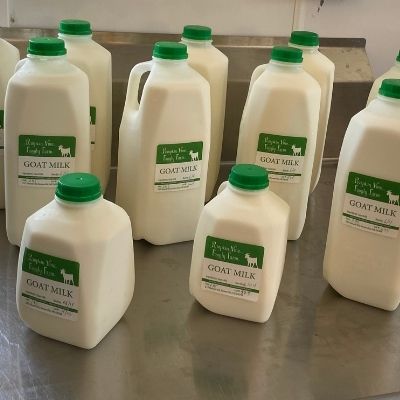 Out of necessity, we started our goat farm and creamery small.  At that time we were milking just three goats and making batches of cheese by hand in our kitchen.
Realizing we needed to expand, we decided to fix up the old milk room in the barn, where the farm's former owner, Don Hewett, once stored his own cow's milk.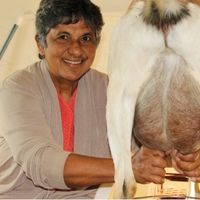 Even as our heard expanded, we continued to milk each goat by hand for many years thanks to Anil's powerful hands: it's not for nothing that Anil was called the "human milking machine" when he attended ag school (a trait he apparently inherited from his mother Sylvie, pictured above with Juniper, one of our first goats.)
We are Educators
We love connecting the dots for people, sharing the magic – and science – of what we do.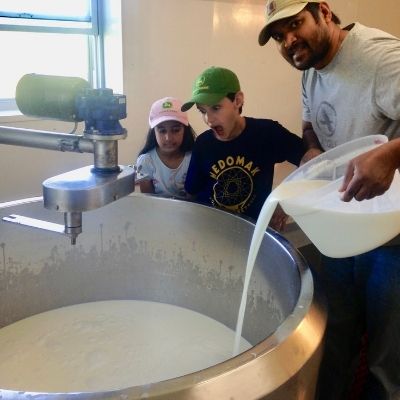 Here on the farm, visitors can see the whole cycle of cheese making, from grass to milk to cheese. When they enjoy our delicious dairy products at the farmers market, they appreciate the hard work and love that has gone into its creation. As I delight in telling visitors on farm tours, cheese-making is an equal mixture of art, science, and dishwashing! 
We have Dreams 
We're still growing!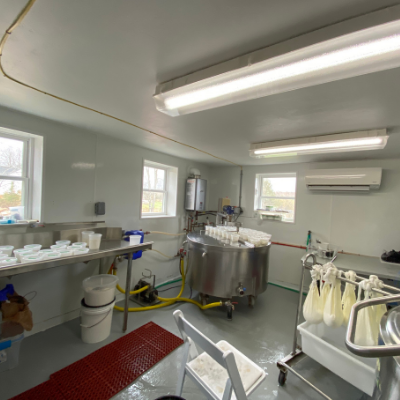 We'd love to upgrade our milking parlor so that we can more efficiently harvest our milk and to expand our creamery so that we can meet the ever growing demand for our goat milk dairy products. Having come so far already, we have no doubt that we will get there, supported by our amazing goats who make the milk and our wonderful community who appreciate being able to eat unique local products.