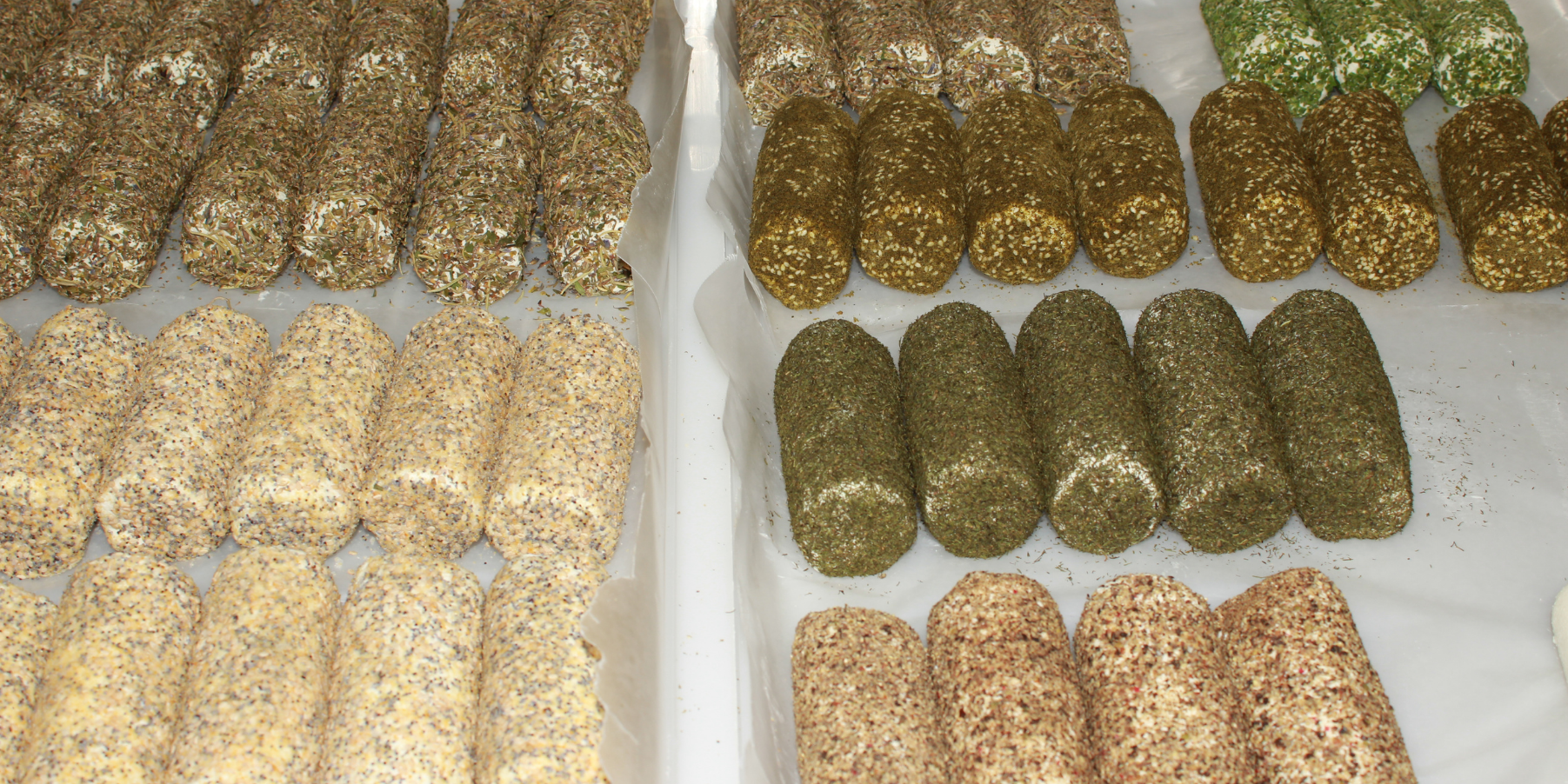 The Pumpkin Vine Experience: Come Taste Our Terroir
With every taste of our delicious dairy products, you are savoring a uniquely Pumpkin Vine product. Our historic hill pastures provide a rich and diverse diet for our goats, from summer graze to winter hay. We enrich the soil and forage to support a sustainable ecosystem, but we also leave room for native grasses and wildflowers, creating a unique flavor profile in our milk. 
All our products are handcrafted here, using only milk produced on the farm, so every bite connects you directly to the land, the animals, and the farmers. You can even taste the seasonal differences, as both the forage and the milk change from spring to fall!
Milk
It all starts with our famous blue ribbon goat milk, available raw in glass quarts or half gallons at the farm, and in plastic bottles at farmers markets. Pre-order required! Clean, creamy, and packed with nature's original probiotics.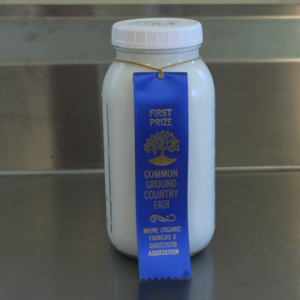 Yogurt
Our farmstead yogurt is made the old-fashioned way: no thickeners, additives, or draining! Slightly softer than a cow's milk yogurt, as nature intended. Our specially selected probiotic cultures were chosen for their immune-enhancing powers. We sell it plain so you can mix in whatever you want!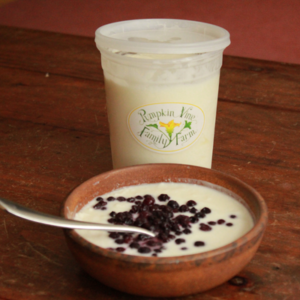 Superpower Smoothies
We don't boast about our smoothies lightly: the combination of our probiotic yogurt and real fruit gives them a power punch. We love them for breakfast or anytime you need a quick nutritious meal, as well as to settle our bellies before bed. There's just Not a wrong time!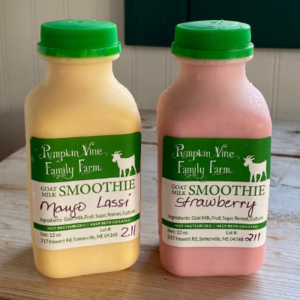 Chèvre
No matter how its prepared, there's no mistaking chèvre made with Pumpkin Vine milk! Whether its rolled in herbs, marinated in FIORE olive oil, topped with fruit, or mixed with maple syrup, it's sweet creaminess is the perfect complement to a wide variety of flavors. A classic appetizer, it is also delicious in entrees from pastas and risottos to tacos and quesadillas. Dill chèvre on salmon? Chive chèvre on a baked potato? There's really no limits.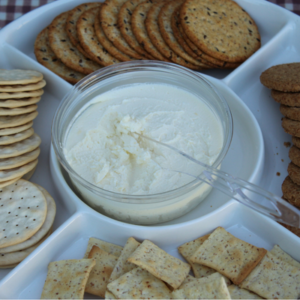 Somersalt Feta
Our 100% goats milk feta is truly special! Because we age all our feta, we are allowed to use raw milk, which allows for the expression of more flavor compounds as it ages. As a young cheese at 60 days, it adds clean salty crumbles to your salad or entree; over time it develops more intense flavors, culminating in our amazing "cheddah fettah" if there's any left at 9 months to a year.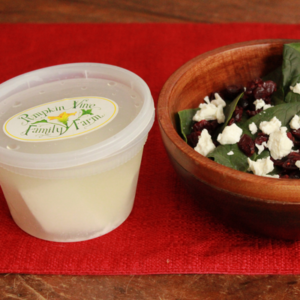 Drunken Goat "Pandora"
Who can resist making a cheese called drunken goat?  We soak our wheels in Vielle Ferme red wine, giving them a beautiful purple rind. The snow white interior is fruity and tangy at 3 months, peaking in intensity at 5 months. This is one Pandora you want to let out of the box.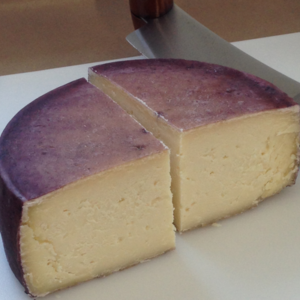 Teleporter
From our first sip of the Pour Farm's scrumptious porter, we knew we needed to get it in our cheese vat.  Our first batch in 2021 was not only a fun & aromatic experiment (imagine warm brown ale poured onto cheese curds!) but it came together into a beautifully marbled wheel.  It hit perfection around 4 months so we're making room in the cave for a lot more in the years ahead.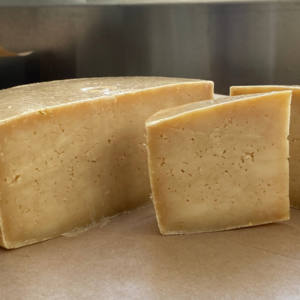 Gouda-Style "Caper"
Caper was the first hard cheese we made, and it has been a customer favorite from the very first wheel. Mellow and moist at 6 months, we often smoke it for greater depth. By 9 months, it is fully developed: sharp and addictively intense. Named for the classic goat maneuver, it is guaranteed to make you caper for joy as well.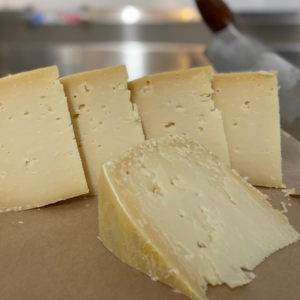 Asiago-Style "Capricco" 
We are the only farm we know that makes a goat's milk asiago, and it is my personal favorite. Whereas our other hard cheeses tend to say, "POW!" this one is seductively smooth and nutty at 10-12 months. Over a year in age, it develops the truly aged piquancy of a good parmesan, perfect for grating.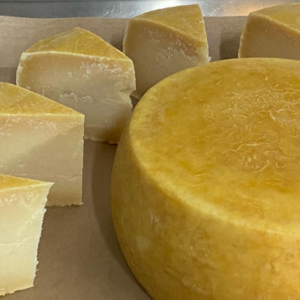 How To Buy Our Dairy Products!
Ready to experience the Pumpkin Vine terroir? In order to stay connected, we only do retail sales, either here at our farm or one of our local farmers markets. From May – October, you can shop Sundays here at the farm, on Tuesday afternoons at the Augusta Farmers Market, on Thursday mornings at the Rockland Farmers Market, and on Saturday mornings at the Hallowell Farmers Market.