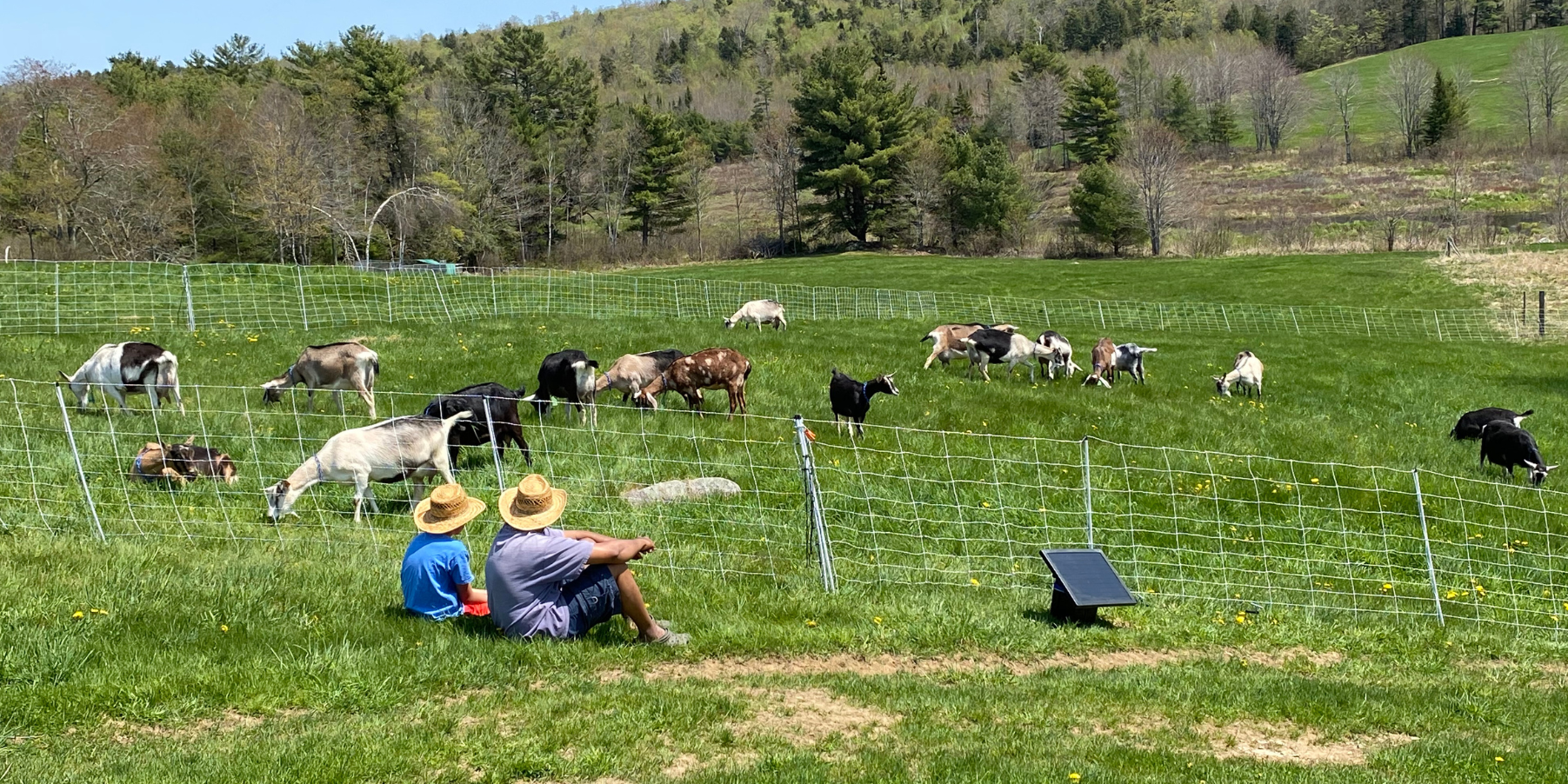 The Pumpkin Vine Family Farm Goats
Goats are the heart, soul, and backbone of our farm, and we feel honored to count these hard-working animals as our co-workers. We work hard to provide the nutrition and care that allow our highly productive does to reach their genetic potential. Anil earned his master's degree in animal science, so he is primarily responsible for herd management.
As a commercial, pasture-based dairy, we breed primarily for milk, but also for big, structurally correct animals that can walk, graze, and sleep comfortably outside. Being a dairy goat is not an easy job:  being pregnant and giving birth every year, milking twice a day, and consuming enough grass to feed themselves and us! While we have not had time to enter any of our goats in the show ring, we recognize that the majority of the desirable physical traits are also functional and help the animal live a long, healthy life. We participate in the linear appraisal programs offered by ADGA to help us select our best animals, as well as the Dairy Herd Improvement program so that we can identify our best milkers.
We are lucky to have two premier Nubian and Alpine breeders here in the state of Maine, who provided us with amazing foundation animals. As cheesemakers, we value both total volume as well as components, so we select for animals with high protein and fat. We are proud to have bred many SG (superior genetics) goats over the years, and we now bring in breeding animals from selected herds around the U.S. 
We are excited to be a source of top genetics for the northeast, for both commercial dairies and homesteads. Here in Maine, many of the goat creameries have not had the time and resources to identity and import outside genetics, so we are committed to helping improve the pool of high quality animals that is available locally. Although we list each goat's performance statistics on their homepage, we also realize that not everyone is familiar with these tools, and we are happy to help homesteads identify the animal(s) that will best suit their needs. 
We have been growing as a creamery every year, and 2023 is the first year we will have extra kids to sell as breeding stock. We are not able to ship at this point, but are open to exploring that in the future, as we have time to expand our sales program. Please see our sales page if you are interested in bringing home a Pumpkin Vine goat!