Sunday Farmers Market Vendors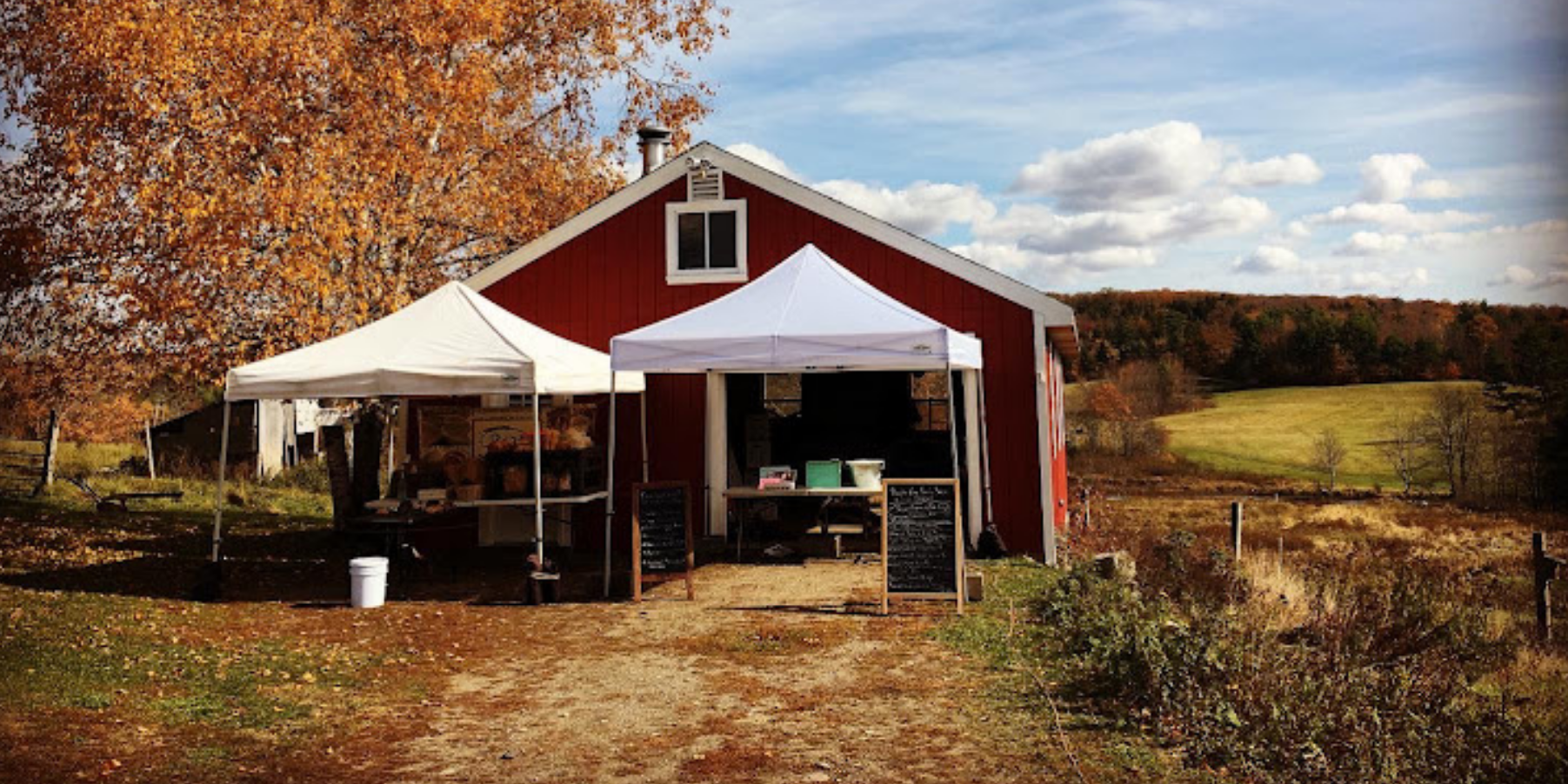 We are delighted to share our farm each Sunday with other food producers and local artisans. 
We're inspired by the hard work they put into creating their products, by hand, with love. 
They bring with them fruits and veggies, home baked goods, yarns and fibers, plants, and so much more.
We're sure you'll enjoy both their offerings and their company as much as we do.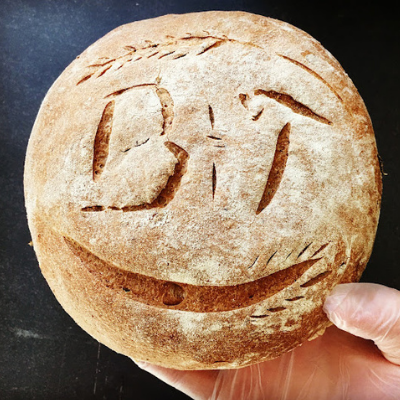 B & T Baked Goods
B+T Baked Goods is a husband and wife team that bakes from our home kitchen in Pittston, ME. They bake fresh bread and pastries using as many local and organic ingredients as possible, while being able to provide good wholesome bread to our community at a reasonable cost.
At the market you're likely to find Sourdough and other breads, English Muffins, Cinnamon Rolls, and Cookies to name just a few!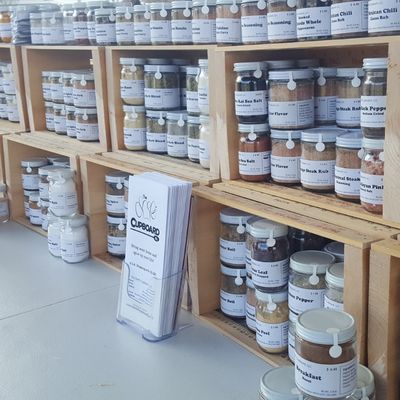 Chef's Cupboard
The Chef's Cupboard features over 60 different selections of small batch, hand blended spices, herbs and salts.  With a mixture for everyone and flavors to please even the most critical pallet, you're invited to stop by their booth when they're here at our monthly special events to talk recipes, food and the weather!
At the market you're likely to find their hand blended herbs, spices and salts, plus Maine Made Maple Syrup from West Minot, Maine and Maine Made Honey from Mt Vernon, Maine.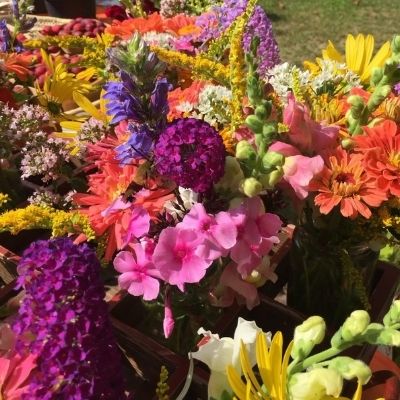 Crystal Lake Farm & Nursery
Crystal Lake Farm & Nursery is a mother and son operation on 75+ acres in Washington, Maine.  They grow mostly native plants and some favorites. Their plants are chosen especially for birds, bees, butterflies & other beneficial insects, and are grown using certified organic, heirloom & open-pollinated seed, whenever possible.
At the market you're likely to find herb, vegetable & flower seedlings in spring, as well as garden & woodland tools and accessories. They also offer land-use consultation and design gardening and design classes.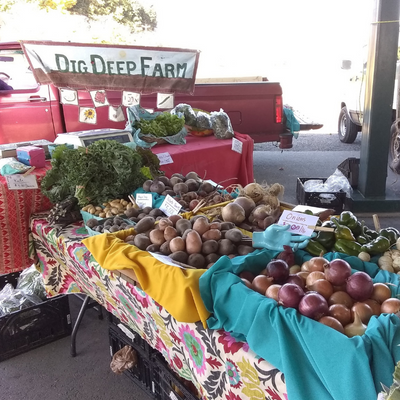 Dig Deep Farm
Directly
Involved in
Growing
Diversity
Education with the
Earth and
People
Dig Deep is a Community Supported Agriculture (CSA) Farm. We raise MOFGA certified organic fruit, cut flowers and mixed vegetables for year-round availability through our CSA, farmer's markets and wholesale. We lease 9 acres of land at Three Level Farm, off of Route 32 in South China, ME. Our mission is to address food security through education and accessibility.
Get a discount on your veggies by signing up for one of our CSA options, that you can pick up here at the farm on Sundays. 
At the market you're likely to find seasonal fresh organic fruit and veggies including greens, onions, carrots, leeks, root veggies and so much more!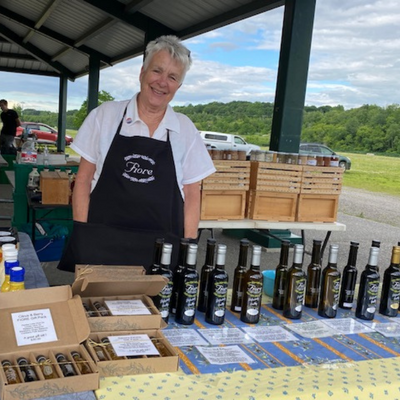 FIORE
Many of us know and love FIORE's olive oils and vinegars. They've been around for 13 years with delish olive oils from around the world and tasty balsamic vinegars from Italy — nothing but the best for you from FIORE! Their Tuscan Blend Olive Oil with Pumpkin Vine Family Farm Chevre is amazing – try it! And their best of the best Judy will be here at our monthly special events to help you select your favorites!
At the market you're likely to find FIORE's wonderful olive oils and balsamic vinegars plus loads of helpful advice on how to enjoy them.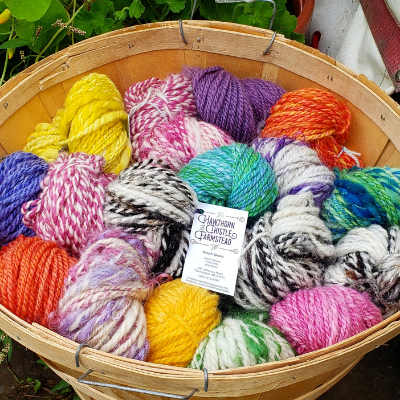 Hawthorn & Thistle Farmstead
Hawthorn & Thistle Farmstead is a small, off grid Farmstead that's primary focus is raising an endangered heritage breed of sheep called Jacob sheep. They also raise a variety of colored angora goats rabbit breeds.
At the market you're likely to find lots of beautiful yarns, dye plants, knit goods, felted items, beeswax candles, and at times we also offer veggies like squash, gourds, and pumpkins.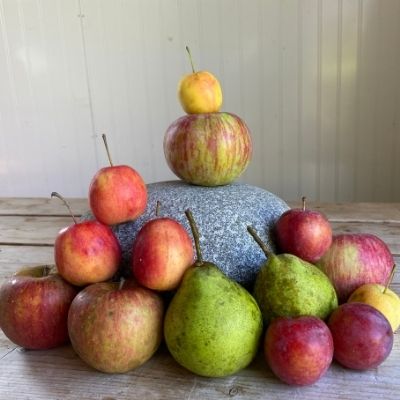 Out On A Limb
Out On A Limb is a small, off-grid homestead farm and experimental orchard in central Maine. They grow several hundred apple and pear varieties, most of them unusual, historic or rare.  Their goal is to introduce consumers to the wide range of fresh eating and culinary apples available in Maine. 
At the market you're likely to find a different mix of varieties, depending on what is ripe at that time, along with some information on their history and uses.  
Pumpkin Vine Family Farm
Pumpkin Vine Family Farm is a pasture-based goat dairy in the beautiful hills of Somerville, Maine. We raise Alpine and Nubian goats and turn their sweet milk into unique dairy products that truly reflect our terroir.  
At the market you're likely to find creamy chevre, tangy feta, and hard cheeses, as well as raw milk, probiotic yogurt, and superpower smoothies in seasonal flavors.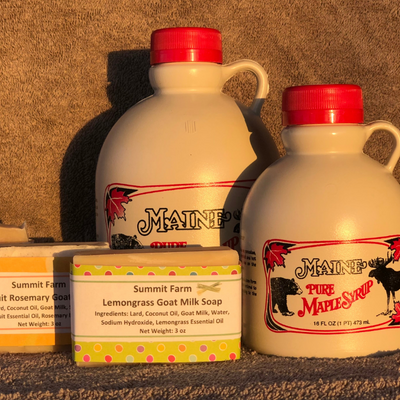 Summit Farm
Jamie and Heidi Bray moved to Somerville with their kids, Lily and Wyatt, and began homesteading in 2014. They built a small sugar shack and began tapping trees a couple of years later. They enjoy their small operation where all sap is lugged by hand and syrup is made in small batches after hours of boiling in their 2' X 4' raised flu, wood-fired evaporator. Each batch is tested with a hydrometer to measure the density and is bottled with care.
Summit Farm also offers locally made goat milk soap in a variety of scents. These soaps are made in small batches, are scented with natural essential oils, and have minimal packaging to reduce waste. We hope you enjoy the clean and moisturizing feel of these handcrafted soaps. 
At the market you're likely to find gallons of their farm made, Maine mayple syrup along with their lucious goat milk soaps in several wonderful scents.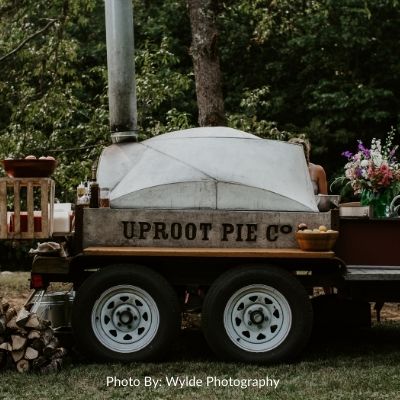 The Uproot Pie Co.
You've probably seen The Uproot Pie Co. and their mobile, wood fired pizza and bilays (a sourdough-based, Polish breakfast roll) around Midcoast Maine at weddings, breweries, and other special events. Now they'll be at some of our Farm Events as well!  We hope you'll enjoy coming to the farm when they're here during special times like Kid Hugging for a nice pizza picnic!
At the market you're likely to find pizzas and bilays using seasonal ingredients grown by local farmers.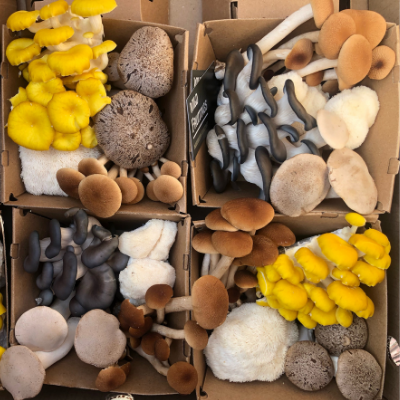 Wild Fruitings
Cat and Sean, owners of Wild Fruitings, are first generation fungi farmers! After bonding over their shared love for mushrooms in the PNW, Sean brought Cat back to his home of Maine and they decided to start a business of cultivating mushrooms. They are passionate about all things mushrooms & making high quality fruitings available to all. 
At the market you're likely to find an abundance of different oyster mushrooms, lion's mane and pioppino, with hopes of growing (and foraging) many more to share with you in the near future.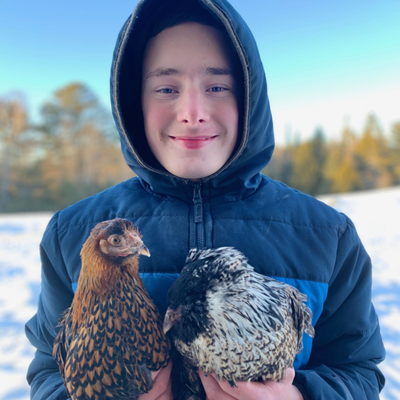 William's Eggs at Simpsonville Farm
William is literally the boy-next-door, and the chickens he cares for could walk over and lay their eggs on our farm, if they're weren't so well behaved. 
William is a 13-year-old who loves all things that fly! He spends the majority of his free time with his three favorite activities – Civil Air Patrol, youth group, and tending to and loving on his chickens and ducks. When outside, he can often be seen with a chicken flying onto his shoulder, head, or back. If one isn't flying on him, then he is probably already carrying one in his arms! William has a goal of getting his pilot's license while in Civil Air Patrol. He has been gladly saving his egg earnings to help him reach that goal!
At the market you're likely to find dozens of colorful eggs laid by William's happy chickens.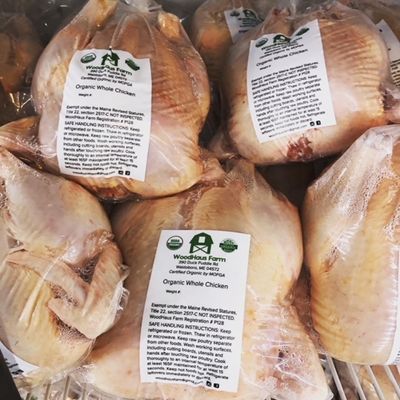 WoodHaus Farm
Owned and operated by chef-turned-farmer August DeLisle, wife Torie, and daughters Valentine and Octavia, MOFGA Certified Organic WoodHaus Farm, located in Waldoboro, ME, is on a mission to provide exceptional meat products to the local community, and strive for a healthy, balanced eco-system on their farm. 
At the market you're likely to find small-batch sausage, poultry and pork grown on their farm and at small partner farms in the area