Part of our farm's mission is to help folks get outside and connected with the land. To help you do just that, we welcome visitors to the farm each Sunday from May – December for our Farmers Market from 11 am – 3pm. During this time, folks are welcome to enjoy the farm in many ways, including through a self-guided hiking trip along our farm's popular Goat Trails.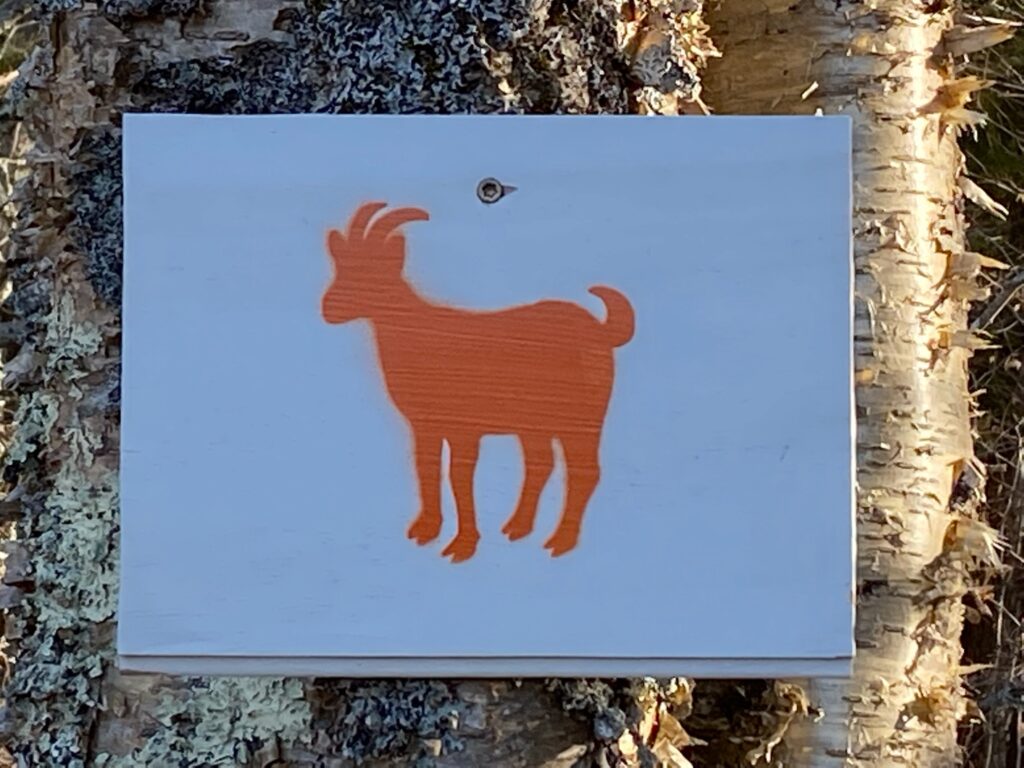 The trails are fairly easy and take you through a variety of terrain from farm fields to bogs to woods. The Kid's Caper is shorter (0.8 miles) and flatter and emerges into our large lower field with nice views of the farm. The Doe's Delight (1.2 miles) runs along our top boundary and brings you out to a spectacular lookout, from which you can look back at the farm and down into Earthsong Sanctuary, a 500 acre wildlife preserve managed by the Midcoast Conservancy. (In 2022, an ecological inventory is being done on Earthsong to determine the best places for future trails; stay tuned!) 
Both trails go over a little woodland brook and will probably bring you past the goats grazing in their pasture palace. Be aware that the fences are solar-charged and will shock you if touched. You may also see Kali and Durga, the Great Pyrenees sisters who are the guardians of the herd. They are beautiful and very sweet, but they are working, so please do not call to them or encourage them to come to the fence for pats. They may bark when they see you, but that is just their working alarm; they are not aggressive unless threatened. 
Trail heads and turns are marked by our Trail Goat sign, shown here. Paths through the woods are indicated by orange blazes on trees; paths through the fields are mowed and indicated with orange stakes. Please stay on the mowed trail as ticks are abundant in Maine; you should always check yourself after hiking. We recommend you wear waterproof boots and a hat and bring sunscreen, bug spray, a water bottle and a camera! 
You can bring your binoculars to see what birds and other wildlife you can identify, enjoy a picnic along the way, or just take a peaceful hike. However you choose to spend your time we're hopeful you'll find the same solace that we do along these beautiful trails. 
All you need to do to get started is click the map below, print it off, and head out to Somerville, ME farm. Please sign in at the Cheese Shop before you hit the trails, and sign out when you're ready to leave. Donations support trail maintenance and can be made at the sign-up table. You can also volunteer with our trail crew! 
Ready for some extra excitement?
Schedule a goat hike instead of, or in addition to, your self-guided hiking excursion!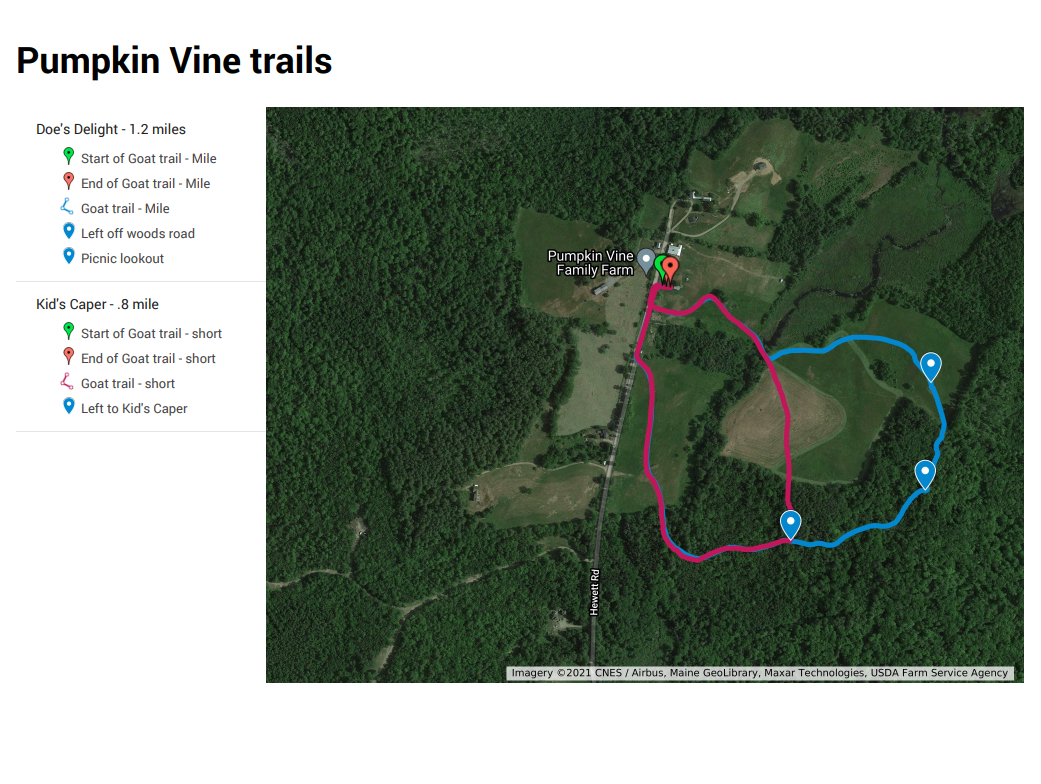 Our safety waiver is now available online — by visiting the farm and/or participating in an event or goat hike, you agree to the waiver for yourself and all members of your party, including any minors in your party. We ask that you share the link to the waiver with everyone accompanying you to the farm.