Birds and Bees and The Plants They Need
June 25 @ 10:00 am

-

3:00 pm
Grab your binoculars and come take a walk through Pumpkin Vine Family Farm's beautiful bobolink and pollinator habitat.  Join the Pumpkin Vine family, Ag Allies grassland bird program, US Fish & Wildlife, and Midcoast Conservancy for Free Field and Pollinator Walks on Sunday June 25th from 10:00 AM to 3:00 PM at Pumpkin Vine's fields in Somerville, Maine.
(The pollinator photos below were taken by Amber Lewis and the bobolink photo was taken by Laura Lecker.)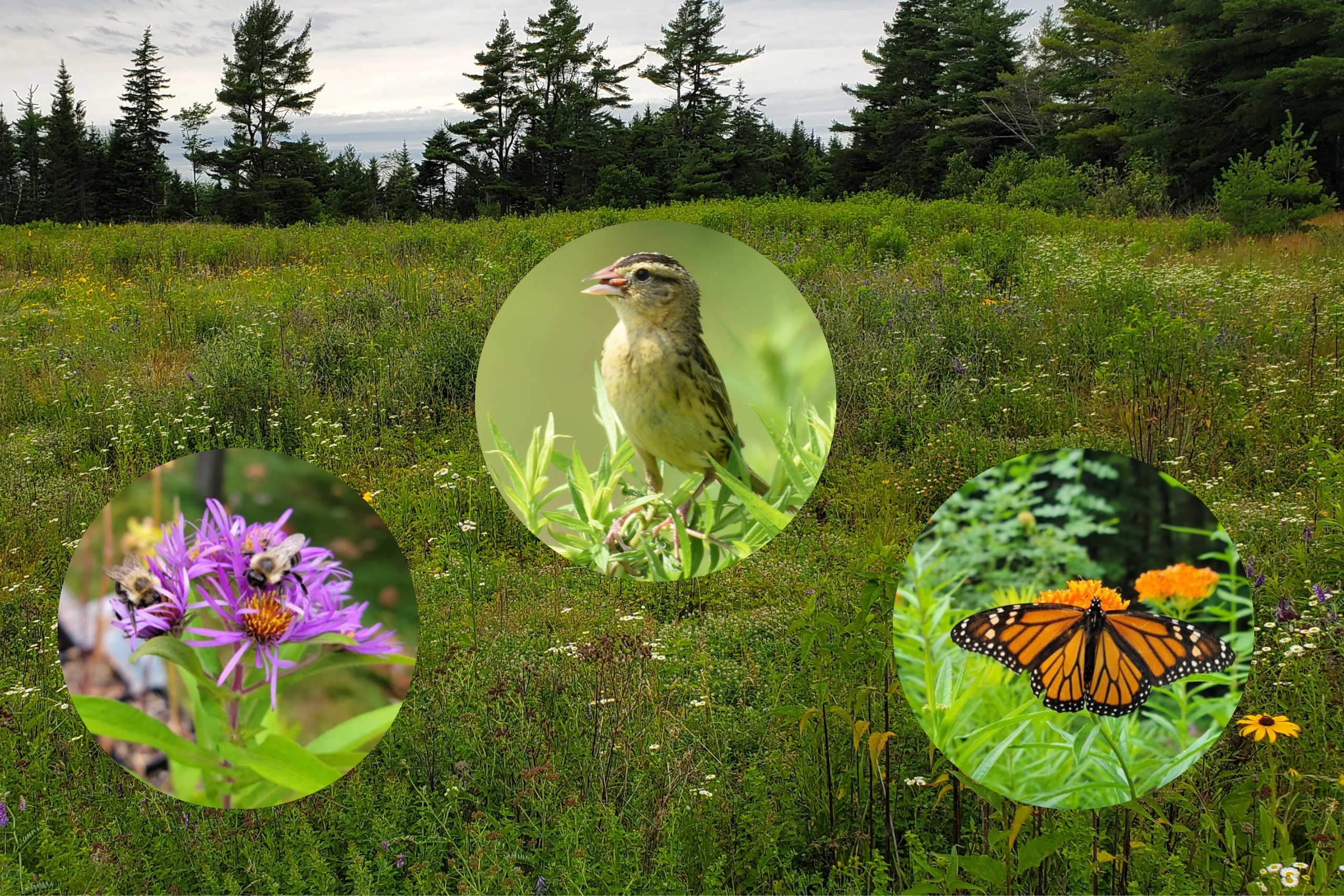 Celebrate Pollinator Week by immersing yourself in the amazing world of field birds, bees and native pollinators, then take home some plants to enrich your own habitat! We're offering not one but TWO guided walk & talks through our farm fields. At first glance, they may look overgrown and empty… look closer, however, and you'll see it's teeming with life! Join one or both walks; we'll have a break in between to get lunch at our farmers' market. Our special guest vendor, Rooted Elements, is bringing a  selection of their seed grown native plants perfect for wildlife support in your home landscape. Be inspired, and take action!
Field Bird Walk from 10-11, led by Laura Lecker of Ag Allies, focuses on the protection of bobolinks on farm fields, with the opportunity to observe parents and juveniles in protected habitat. If you are interested in revitalizing an old field to improve grassland habitat, this workshop is the place to get advice on starting that process. We will also discuss the life history of our steeply declining grassland bird species and conservation practices that can be implemented to help them. 
Pollinator Walk from 12 – 1, led by Hannah Mullally of US Fish and Wildlife, introduces you to incredible bees, choosy butterflies, and helpful hoverflies. During this walk and talk, we will discuss the breadth of Maine's native pollinators, their importance in our ecosystem and on the farm, and how you can support these small but mighty creatures. We will especially focus on the process Pumpkin Vine Family Farm took to establish native pollinator habitat and how they integrate pollinator habitat into their operation.
Rooted Elements is a peat-free plant nursery in Montville, Maine specializing in seed-grown, pesticide-free native plants. Whether you are interested in a vibrant garden in the sun or a woodland shade garden, we aim to create beautiful, inspiring spaces that are well-suited to their surroundings and increase the biodiversity of the landscape. Consultation and garden design services are also offered.
To register please go click on the "Register" button below. If you have questions, please email Pumpkin Vine Family Farm at info@pumpkinvinefamilyfarm.com or call Kelly at (207) 549-3096. 
Since 2016, Ag Allies, hosted by Somerset County SWCD, has worked with land trusts and landowners statewide to increase the nesting success of grassland birds using incentive payments, technical assistance, and education. The program empowers landowners to make sustainable, bird-friendly management changes on their land and improve the chance for nesting success of grassland birds in Maine. 
Pumpkin Vine Family Farm is a working goat dairy and farm education center located on the historic Hewett homestead at 217 Hewett Rd in Somerville, ME. Our mission is to protect, respect and nurture the human and natural communities we live in, through conservation, education, and sustainable production. We open the farm to the public from 11-3 on Sundays from May – December for visiting, hiking, and shopping at our farmers market, as well as monthly educational events.